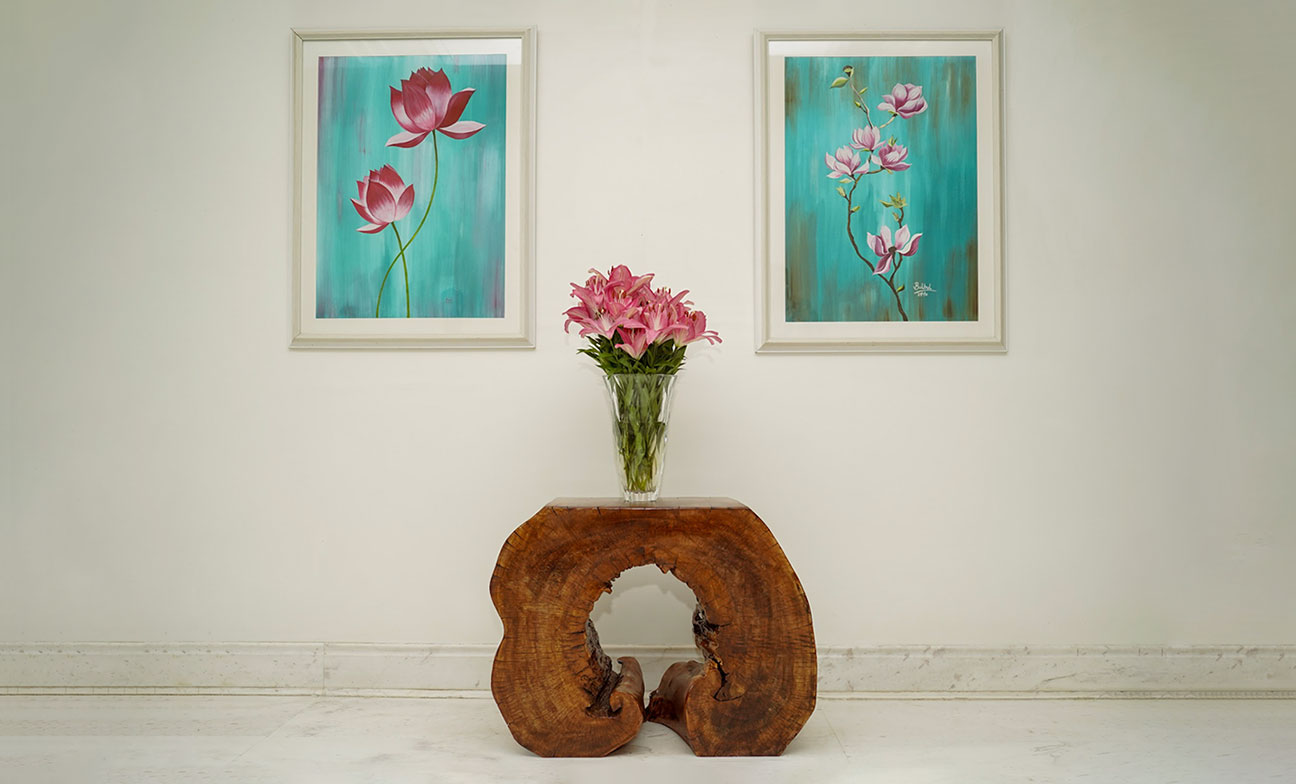 Studio by Paveela: Bringing Exclusivity to Interior Spaces
Bespoke furniture and decor brand is reinventing personalization with their unique material and space-driven products.

A console table
Brand Fact File
Founder: Ms. Paveela Bali
Year of Establishment: 2022
Category: Furniture and Accessories
Range of Products: Benches, Tables, Clocks, Lights, Paintings, Candle Holders, Soaps
You can reach out to them by following this link.
Check out their Instagram page here.
Explore more about Studio by Paveela on their website.

A garden bench
Brand Ideology and Journey
Deeply rooted in sustainability, Studio by Paveela is an environment-conscious brand curating warm, earthy, and luxury products for interior furnishing and decor. An environmentalist herself, the founder of the brand Ms. Paveela Bali has a flair for recycling and reusing waste materials. Her unparalleled penchant for creativity, nature, and art has been personified in the form of the brand. Studio by Paveela had a humble beginning by making furniture and decor products from upcycled glass bottles and cans.

A rustic side table
Product Development, Functioning and Maintenance
The products at Studio by Paveela showcase truth to the material and the environment. Wood and glass define the primary material palette of all its products. The texture, pattern, and color of a material govern the final look and feel of the product. The finishing of all products lasts at least 5-6 years. Therefore, every piece offered by the brand is unique and has a story to tell.

A wall light made from sliced wooden log
Design and Execution
While the products at Studio by Paveela are made from reclaimed and recycled materials, the brand designers make sure that every piece is created with aesthetics and luxury as a priority. Likewise, the quality of the product is also of utmost importance to the brand. Every piece is highly customizable according to the needs of the client and their space. All products offered by the brand are hand-crafted to perfection in their in-house workshop.

An alloy wheel coffee table
From the Founder's Desk
"I think a product should be both aesthetic and purposeful. I do not believe in selling anything that I would not buy. So, each and every piece at Studio by Paveela is crafted with a lot of attention to detail and personalization" said the Studio by Paveela founder Ms. Paveela Bali in her interview with Archizy.

Retrofitted car lights repurposed for residential use
The Road Ahead
Studio by Paveela is leading the way forward for environment-friendly interior spaces. With a lot of zest and zeal to redefine the built environment, the brand will soon launch an experience centre in its hometown Chandigarh. Additionally, the company is all set to broaden its scope of work by entering the segment of hospitality spaces.
With an eye for detail and craftsmanship, Studio by Paveela is making interior spaces more liveable and happy.
Discover more about Studio by Paveela by visiting their brand page on Archizy.