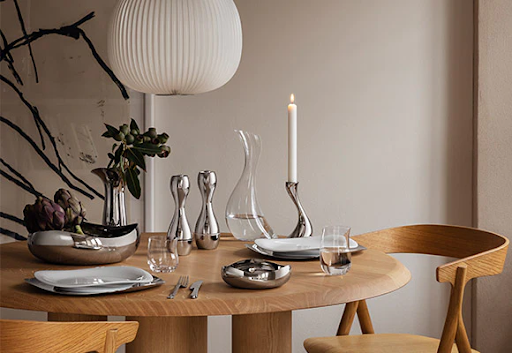 10 Kitchen and Dining Accessories You Must Bring to Your Home
Our homes are more than just a place to sleep and eat; they are an extension of our personalities and a canvas for our creativity. The kitchen and dining areas are no exception. These spaces serve as hubs for nourishment, connection, and, often, entertainment. But how can you transform your kitchen and dining room from functional to fabulous? The answer lies in the art of accessorizing.
What are Kitchen and Dining Accessories?
Kitchen and dining accessories are the small, often overlooked, yet crucial elements that enhance the aesthetics and utility of these spaces. They come in various forms, from practical tools to decorative items, and are designed to make meal preparation, serving, and dining more convenient and enjoyable. These accessories add a personal touch to your kitchen and dining room, turning them into inviting and warm environments for both everyday meals and special occasions.
How to Accessorize a Kitchen?
The kitchen is the heart of the home, where family and friends gather to share food and create memories. Accessorizing your kitchen can significantly impact its functionality and style. Here are some must-have kitchen accessories:
Cookware Sets
High-quality cookware sets are the foundation of a well-equipped kitchen. Look for sets that include a variety of pots, pans, and baking dishes made from durable materials like stainless steel or cast iron.
Cutting Boards
Invest in a range of cutting boards, including wooden and plastic options. They are essential for safe food preparation and can add a rustic or modern touch to your kitchen decor.
Knife Set
A good knife set is crucial for effortless chopping, slicing, and dicing. Consider a block set that provides an organized and stylish storage solution for your knives.
Kitchen Gadgets
Various kitchen gadgets, from can openers to food processors, can make your cooking tasks more efficient. Look for gadgets with ergonomic designs and sleek finishes.
Aprons and Oven Mitts
Keep your clothes clean and your hands safe with stylish aprons and oven mitts. Choose patterns and colours that match your kitchen decor, adding a personal touch to your cooking attire.
Kitchen Decor
Personalize your kitchen with decorative items like wall art, potted plants, and unique utensil holders. These details can give your space character and charm, making your kitchen a more inviting place to prepare meals.
Dishware and Glassware
Invest in elegant dishware and glassware to make your meals more enjoyable. Mixing and matching different styles can create an eclectic and inviting atmosphere.
How to Accessorize a Dining Room?
The dining room is where we come together to share meals and celebrate special occasions. It should be a place of comfort and style. Here are some essential dining room accessories
Dining Table and Chairs
The dining table and chairs are the centrepiece of the room. Choose a table that suits your space and style, and complement it with comfortable chairs that encourage guests to linger.
Table Linens
Tablecloths, placemats, and cloth napkins can transform your dining table. Select linens that match the occasion, whether it's a casual family dinner or a formal dinner party.
Dinnerware Sets
Invest in quality dinnerware sets with matching plates, bowls, and serving dishes. This creates a cohesive look and makes setting the table a breeze.
Centrepieces
A well-chosen centrepiece can add visual interest and serve as a focal point on your dining table. Whether it's a vase of fresh flowers, a decorative bowl, or a striking sculpture, select a centrepiece that complements your dining room's style.
Candles and Candleholders
The warm glow of candles can set the mood for a romantic dinner or add a touch of elegance to any meal. Select stylish candleholders that match your decor, and consider scented candles to enhance the dining experience.
Buffet or Sideboard
A buffet or sideboard provides additional storage and serving space in your dining room. Choose a piece that complements your dining set and offers a surface for displaying decorative items like vases, serving platters, or family heirlooms.
Bar Cart
If you enjoy serving cocktails and drinks during meals, a bar cart is a stylish addition to your dining room. Stock it with your favourite beverages and glassware, and use it as a mobile bar.
10 Best Kitchen and Dining Accessories for a Home Listed on Archizy
Archizy is your one-stop-destination to shop for all your home furnishing, lighting, and decor needs. Check out the most beautiful and functional kitchen and dining accessories listed on The Archizy Shop.
Mizo Serving Platter With Spoon Set Of 2
The Oblique Platter
Brunnera Tray With Iris Jars
Gold Cutlery Set
Carvem Platter Five In One
Keeper Hammer Tray
Novine Dry Fruit Box
Sheen Table Runner
Winceyyete Hammer Napkin Rings
Troove Salad Bowl
In Conclusion
The kitchen and dining room are vital spaces in our homes, and the right accessories can transform them into functional, beautiful, and inviting areas. Whether you're a culinary enthusiast or love hosting dinner parties, these ten essential kitchen and dining accessories are the key to elevating your home decor and enhancing your dining experience.

If you are looking for some exclusive kitchen and home decor accessories, check out our vast collection of products on The Archizy Shop.